On-chain data shows the Aptos (APT) trading volume has continued to be extremely high after the rally, a possible sign that more gains may be coming.
Aptos Social Dominance Calms Down, But Trading Volume Remains Elevated
Yesterday, news came out that tech giant Microsoft has partnered up with Aptos Labs to work on blockchain-based AI tools. This big announcement naturally caused a reaction in the market, as the company's token, APT, observed a very sharp 17% jump.
The token had neared the $8 level at the peak of this surge, but since then, it has observed some decline and has retreated towards the $7.3 mark. The below chart displays how the asset's price has changed recently.
Despite the pullback, though, Aptos is still carrying gains of around 9%. These profits make it by far the best performer among at least the top 100 assets by market cap.
As for why the retrace may have occurred, data from the on-chain analytics firm Santiment could provide some hints. As displayed in the below graph, the social dominance of APT had observed a very large spike as the rally had taken place.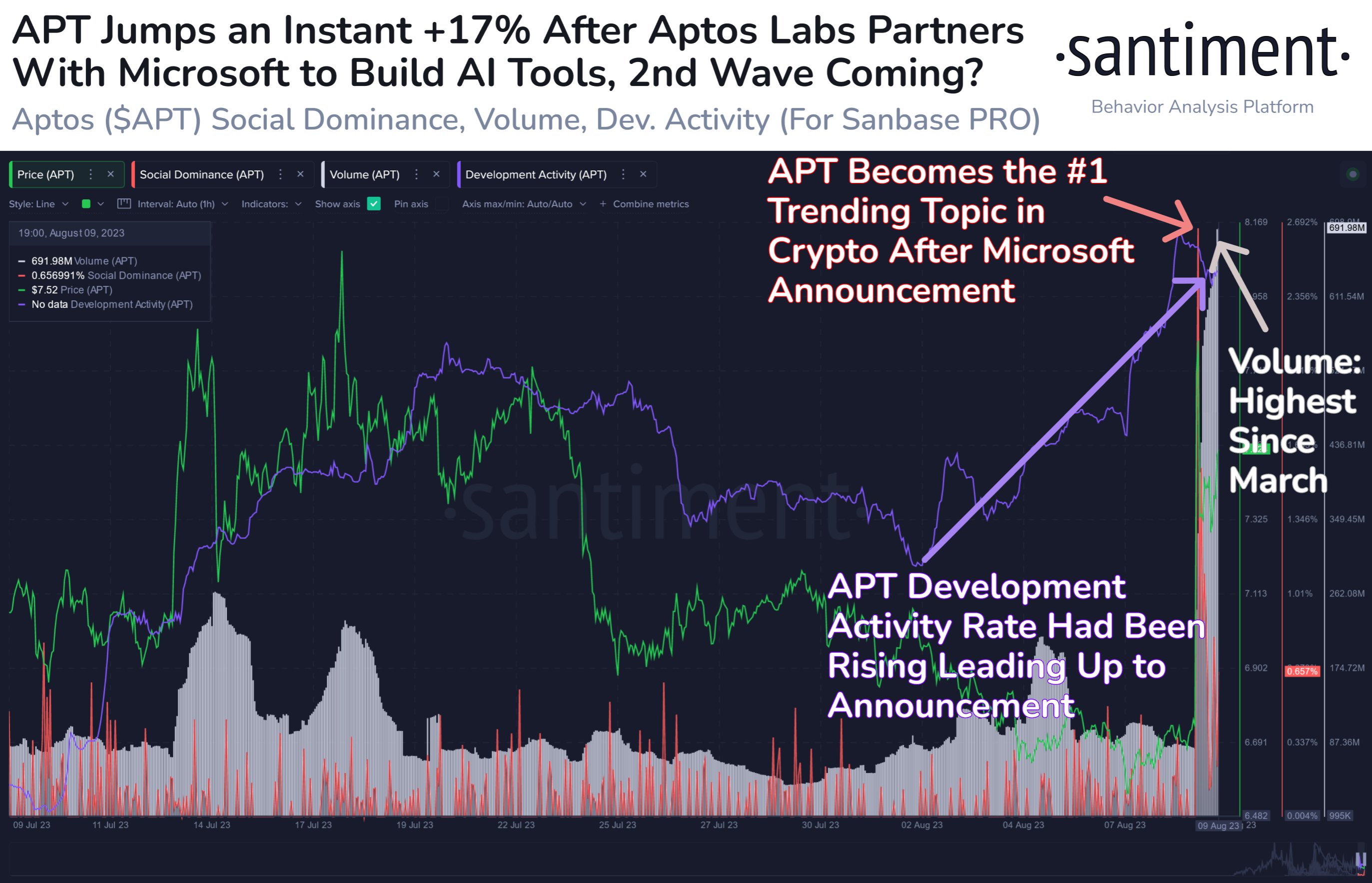 The "social dominance" basically tells us how much discussion related to the top 100 assets on social media is coming from talks related to Aptos alone. When the news had broken out, social media discussion around the coin had naturally blown up, as a large number of users had become interested in the asset.
While such excitement can help fuel a rally, too much of it can actually have the opposite effect. It would appear that the FOMO spiking in the market is what contributed to the rally topping out and the price decline.
Since then, though, the social dominance has calmed down a bit, implying that hype has returned to healthier levels. At the same time, the APT trading volume (that is, the measure of the total number of tokens being moved around on the blockchain) has only gone up and has hit its highest point since March.
This implies that investors have only continued to trade more of the cryptocurrency even after the rally's pullback. Generally, a high amount of volume is needed to sustain any significant move in the price, as such moves require a large amount of fuel. Since the trading volume has only been growing, it can be one of the first hints that the Aptos rally isn't over just yet.
In the chart, Santiment has also attached the data for another indicator, the development activity. This metric keeps track of the work that the developers have been doing on the project's public GitHub repositories.
From the graph, it's visible that this metric had been constantly rising in the buildup to the announcement as the developers may have been preparing for the partnership.