Liquid Staking Derivatives (LSDs) on Ethereum were one of the biggest topics in the crypto market in the first months of 2023. Thanks to Ethereum's shift from Proof of Work (PoW) to Proof of Stake (PoS), LSD projects such as Lido Finance (LDO) and Frax Finance (FXS) flourished.
In simple terms, LSDs are financial instruments that represent tokens that have been used as receipts within a DeFi protocol. Through these, users are able to stake their token while having the flexibility to use these LSDs in other decentralized applications.
Best New Crypto Narrative For H2 2023?
And according to some experts, LSDfi could become the new biggest trend for the second half of 2023. Crypto analyst @DaanCrypto recently wrote: "My best guesses for narratives going into the Summer: BTC Chain/Layer, LSDfi. Been loading up on some ALTS that fall into these categories." Remarkably, Binance Research also recently published a detailed report on LSDfi that is well worth reading for investors.
LSDfi refers to DeFi protocols built on liquid staking derivatives. By providing additional yield opportunities, LSDfi protocols allow LSD holders to leverage their assets and maximize returns. According to Binance's report, LSDfi protocols have seen a rapid increase in Total Value Locked, TVL in recent months, benefiting from the introduction of liquid staking.
Cumulative TVL across the major LSDfi protocols has surpassed the $400 million mark, more than doubling in the last month. Tailwinds for LSDfi growth include the rise of staked ETH as well as the current low adoption of LSDfi.
Remarkably, the trend is still relatively young. LSDs currently hold an $16.9 billion market cap, while LSDfi only accounts for 2% of that market, creating a massive opportunity.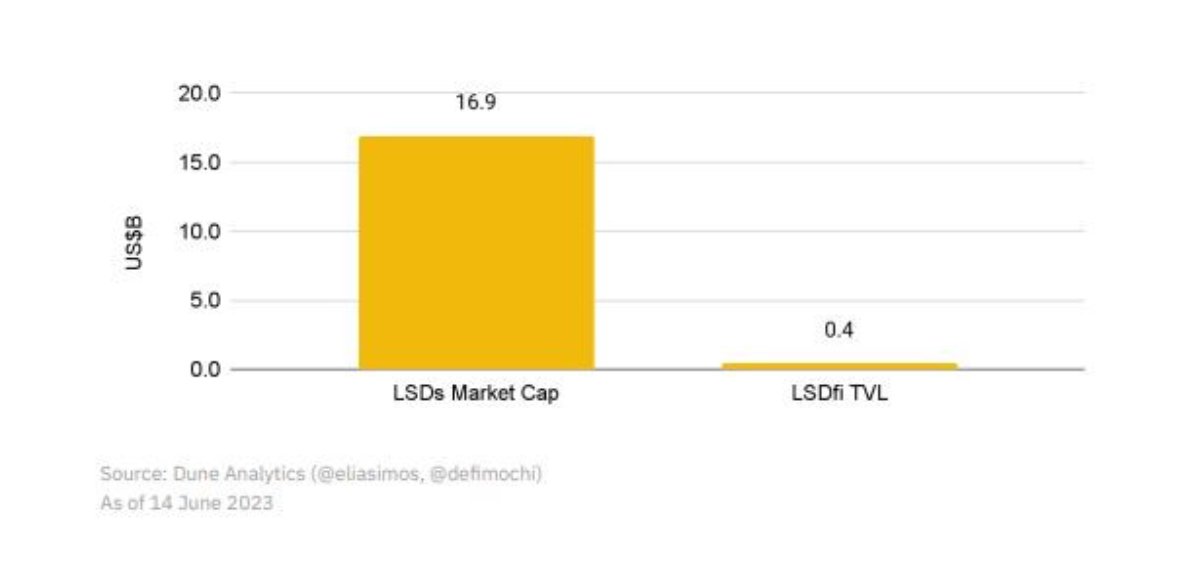 In addition, ETH's staking ratio is significantly lower than the average of the top 20 PoS chains. The ETH ratio is just 16.1%, while the average ratio is 58.1%. The growth potential is therefore also huge in view of this.
Popular crypto researchers @MooMs and @Flowslikeosmo looked into the Binance report and examined the most important projects in the LSDfi space at the moment. Currently, the LSDfi landscape is relatively concentrated, with the five largest players owning over 81% of TVL. Lybra is the market leader, and its rise to the top has been rapid, considering that the project only went online on its main network in April.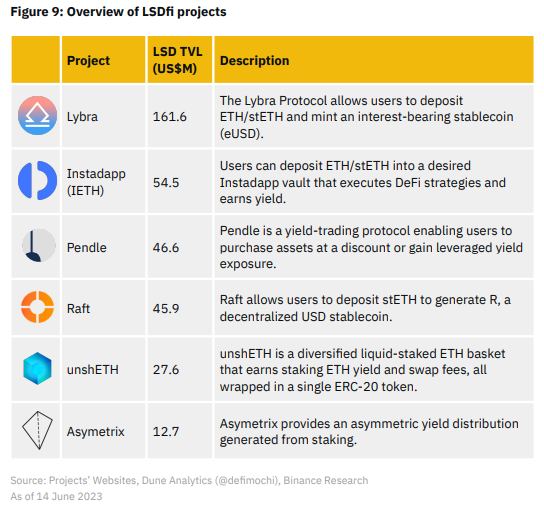 Lybra Finance (LBR) was a pioneer in the LSDfi space, launching eUSD, one of the fastest growing yielding stable coins in the space. To date, Lybra holds over 36% of all LSD TVL and is working on some big changes to its tokenomics model for V2.
LBR v2 is expected to bring some huge changes to the tokenomics model. "With Lybra currently trading at a significant 70% discount from its previous highs, it is definitely worth keeping an eye on." says @Flowslikeosmo.
In second place is currently Instadapp (INST), which is revolutionizing the DeFi industry by creating a comprehensive hub for all things DeFi. Instadapp's IETH has seen explosive growth and currently holds 13.38% of the LSDfi market share. With the current smart strategies, users can earn higher returns on their ETH by using dApps such as AAVE, Morpho, MakerDAO and Compound.
The third largest LSDfi protocol is currently Pendle, which allows users to use "upfront" returns to create customized strategies that match their risk tolerance and time preferences. Notably, Pendle has two return aggregators that have recently launched to add value to the Pendle ecosystem.
Important to note:  Even though LSDfi offers attractive opportunities for LSD users, users should be aware of the risks involved.
At press time, Lybra Finance (LBR) traded at $1.65, down 66.9% from the all-time high on May 29.