Bitcoin has observed a sharp rally above the $30,000 mark over the past day. Here's how the 30-day price range may have foreshadowed this volatility.
Bitcoin Had Earlier Compressed To A Tight 30-Day Price Range
According to data from the on-chain analytics firm Glassnode, tight price ranges have historically preceded large moves in the cryptocurrency's price. In the context of the current discussion, the Bitcoin price range of interest is the 30-day one, simply a measure of the percentage difference between the top price and bottom price that the asset has observed over the last month.
When the value of this metric is high, it means that the cryptocurrency has seen a significant degree of fluctuation between the high and low set during the past 30 days. Such a trend implies that the asset has registered high volatility recently.
On the other hand, low values suggest the asset has only moved inside a narrow range during the past month. This kind of trend naturally highlights how stale the cryptocurrency's price action has been lately.
Now, here is a chart that shows the trend in the Bitcoin 30-day price high and low, as well as the 30-day price range, over the history of the coin: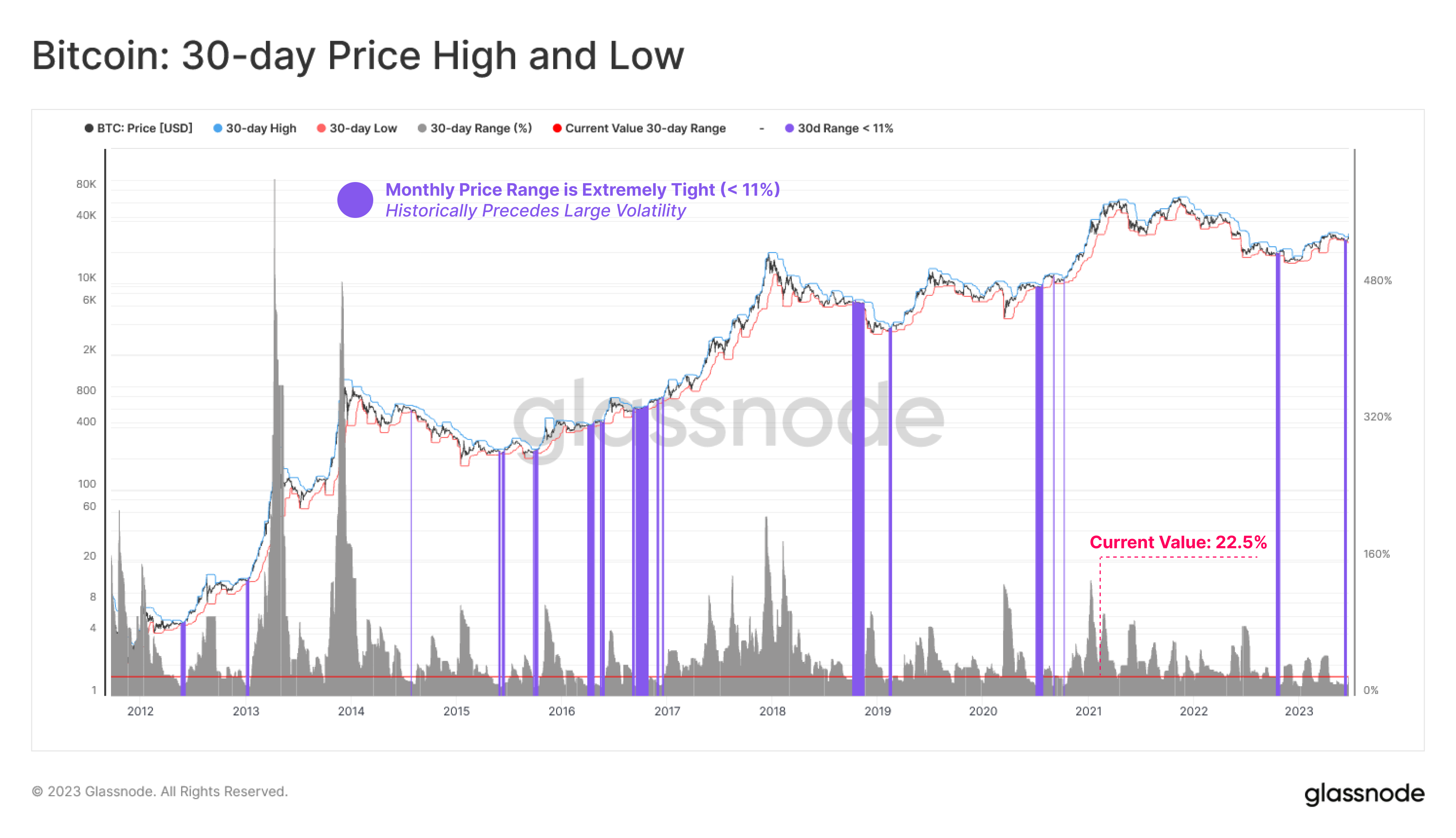 As highlighted in the above graph, the Bitcoin 30-day range had compressed to a very tight range recently as the asset's price had mostly moved sideways.
During this period of consolidation, the 30-day range had fallen below the 11% mark, meaning that within 30 days, the asset's top and bottom had only seen price action amounting to less than 11%.
In the chart, Glassnode has also marked the historical instances where the asset moved in similarly tight or tighter 30-day price ranges. Following such tight price consolidation periods, BTC has generally always observed a sudden burst of volatility.
Most of the time, this volatility has been in the upwards direction, as the tight 30-day ranges have preceded many rallies in the asset. The 2021 bull run, for example, saw a similarly narrow price range in its early buildup.
Though most cases may have been like this, the volatility hasn't always been bullish. During the 2018-19 bear market, the cryptocurrency saw a long stale price action, with the 30-day price range falling to pretty low values. This stagnation finally ended up being broken by the November 2018 crash.
Therefore, the recent tight range that Bitcoin had been stuck under wasn't certain to lead to bullish volatility. But fortunately for the coin, it would appear that the narrow range has decompressed into a rally this time, as the cryptocurrency has been able to enjoy a sharp jump toward the $30,000 mark.
BTC Price
At the time of writing, Bitcoin is trading around $29,800, up 19% in the last week.