On-chain data shows that the Bitcoin exchange supply has only continued to slip further recently despite the price drop to the $29,200 that BTC has observed.
Bitcoin Exchange Supply Has Declined To Just 1.17 Million BTC Now
According to data from the on-chain analytics firm Santiment, the latest decline in the price doesn't look to have triggered a severe reaction from the market yet.
The relevant indicator here is the "supply on exchanges," which measures the total amount of Bitcoin supply that's currently being stored in the wallets of all centralized exchanges.
When the value of this metric goes up, it means that the investors are making a net amount of deposits to these platforms right now. As one of the main reasons why the holders would transfer their coins to exchanges is for selling-related purposes, this kind of trend can have bearish consequences for the price.
On the other hand, the indicator's value decreasing suggests the investors are taking coins off to self-custodial wallets, potentially to hold onto them for extended periods. Naturally, such accumulation can have a bullish effect on the asset in the long term.
Now, here is a chart that shows the trend in the Bitcoin supply on exchanges over the past few months: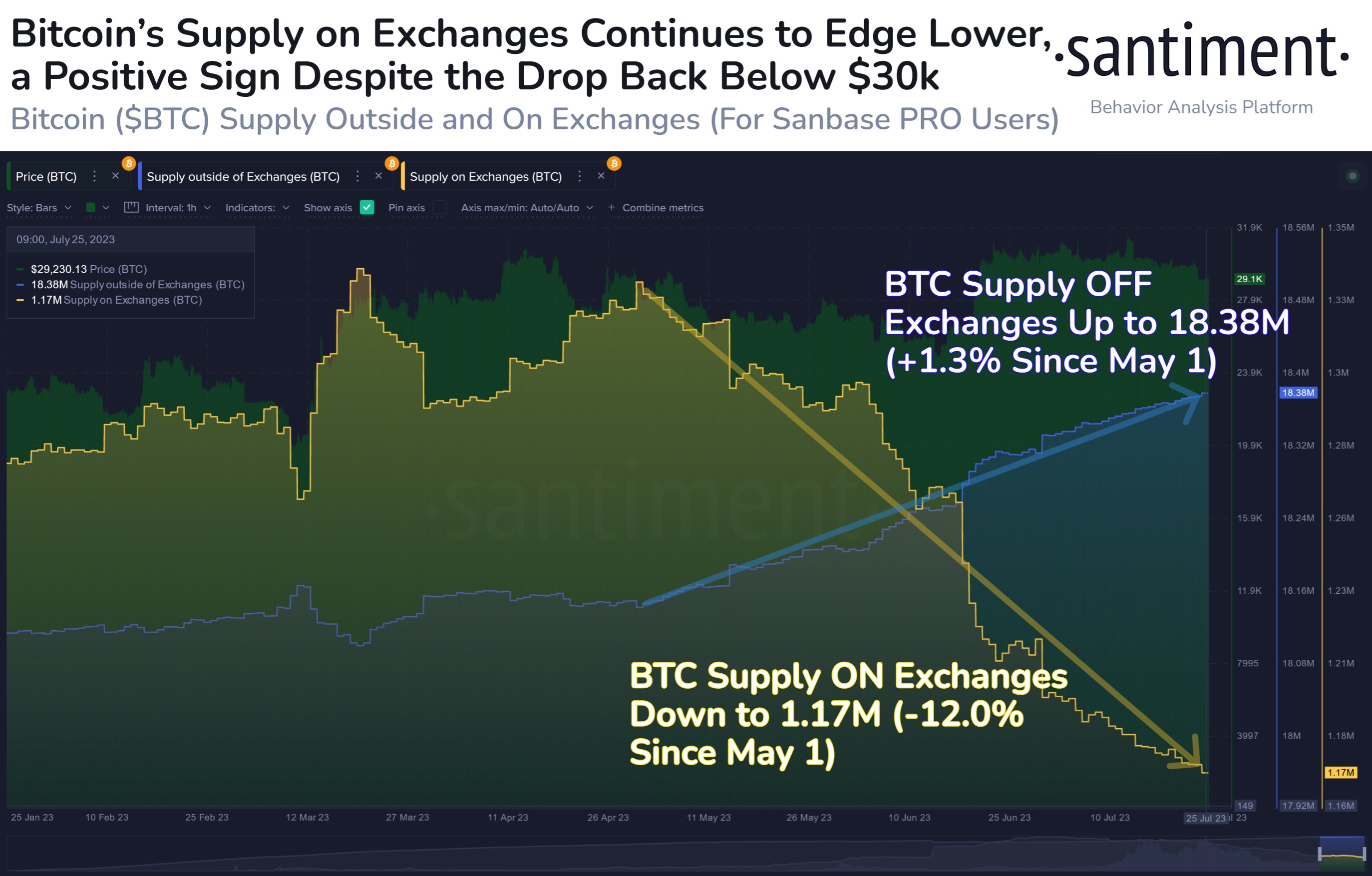 As displayed in the above graph, the Bitcoin supply on exchanges has observed a constant downtrend during the last few months or so. This means that the investors have been consistently taking their coins off these platforms during this period despite price declines.
Interestingly, this decline in the indicator continued even when the rally above $30,000 had occurred in the middle of June. Generally, during such sharp price surges, it's not rare to see the metric rise, as some investors would be looking to harvest their profits.
But not only had deposits not occurred in this rally, but the supply on exchanges had also instead plunged especially hard back then, suggesting that there may have been some heavy buying taking place in the market, which would have acted as fuel for the surge.
In the past week, Bitcoin has registered a decline towards the low $29,000 level, but the indicator has still only continued to head down, implying that this price drop hasn't been enough to trigger a mass panic-selling reaction from investors.
The current trend in this metric is naturally a positive sign for the cryptocurrency's value, as it means that at least another selloff may not be probable to take place in the immediate future.
With the latest downward move in the supply on exchanges, only 1.17 million BTC is left in the wallets of these platforms now. This value is around 12% lower than back during the beginning of May, which is a significant drop.
BTC Price
At the time of writing, Bitcoin is trading around $29,200, down 2% in the last week.