In a market that has been relatively quiet for weeks, Bitcoin (BTC) has suddenly sprung to life, with its Futures Open Interest (OI) reaching levels not seen since the FTX crash. Open Interest, a metric that measures the total number of outstanding futures that have not been settled, provides a glimpse into the trading activity and potential future price movements of an asset. A surge in OI can indicate heightened trading activity and interest in the market.
Starting early Tuesday, Bitcoin's price action surged by more than 3.5%, breaking the $30,300 mark for the second time this month. This movement began around 5 am EST, pushing the price to a 16-day-high. The catalyst behind this surge seemed to be the rumor that insiders at BlackRock and Invesco have confirmed that a Bitcoin spot ETF is not a question of "if" but "when", suggesting an approval within the next four to six months.
"Bitcoin whales opened giga long positions at $29k," remarked CryptoQuant CEO Ki Young Ju. The Head of Research at CryptoQuant further added, "A lot of talk lately about increasing probability of Bitcoin spot ETF approval in the US. Now Coinbase premium sharply up and moving towards positive territory (implies Bitcoin demand in the US is strengthening). GBTC price discount has continued to narrow."
Bitcoin Futures Open Interest Skyrockets To Yearly High
Aggregate OI for Bitcoin futures saw a significant jump, increasing by over $1 billion from the previous day to a staggering $14.95 billion, according to Coinglass data.

This surge marks the most substantial increase in over a month. However, derivatives activity on the CME, often seen as a gauge of institutional trading, remained relatively unchanged in OI, suggesting that the recent move might be predominantly retail-driven.
Miles Deutscher commented on Twitter, "Bitcoin open interest is now at its highest level since the FTX collapse. This indicates increased BTC trading activity from market participants. Looks like a big move is brewing." Similarly, James V. Straten observed, "Bitcoin open interest is now greater than 2.25% of the market cap, approaching YTD highs, and looks exceptionally overheated."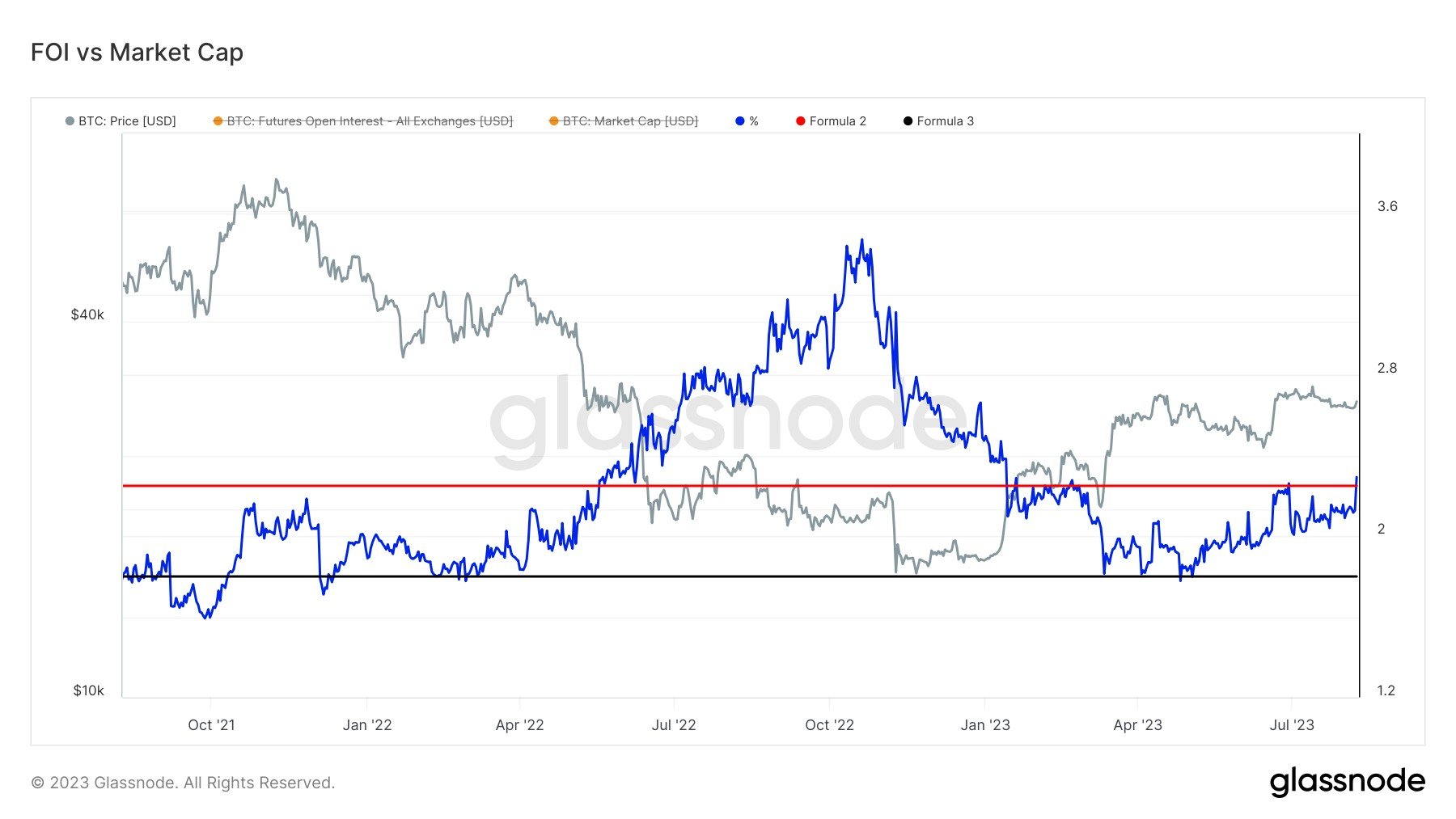 The Kingfisher, a renowned data provider for Bitcoin derivatives, noted, "Coinbase selling into every other major exchange buying. Looks like Bybit & Bitmex degens are betting on another $BTC leg up. While Bitfinex seems to be selling here."
On the options front, the analysts added that dealers seem bullish, ready to capitalize on both upward and downward movements. Their buying activity is currently stabilizing the price, while any significant upward trajectory could see them intensifying their buying. Meanwhile, the BTC liquidation map of The Kingfisher indicates that while there are still "some late high-leverage shorts to liquidate to the upside, but most of the short-term liquidity is down."
Renowned analyst @52kskew provided insights into the BTC whale vs. algo divergence, stating, "Whales require quite thick liquidity to exit or close positions & most often this is during a squeeze event. Some firms will use algos in order to get the best price when closing out sizeable position (this is where TWAP algos come into play)."
CPI Release To Take Out The Heat?
Notably, the Consumer Price Index (CPI) in the US is scheduled for tomorrow, Thursday, 8:30 am EST. The release has the potential to cause a mass liquidation of the overheated BTC futures market in both directions. A major move by the BTC price seems imminent.
Forecasts suggest a rise in the headline CPI from 3% to 3.3% year-over-year (YoY) for July, marking a significant transition as the positive impacts from the prior year start to wane. Notably, the Cleveland Fed's Inflation Nowcast model projects a 3.42% headline CPI, marginally surpassing general expectations. Core CPI is expected to slightly decline from 4.8% to 4.7% YoY.
At press time, the BTC price was just below key resistance at $30,000.