Litecoin (LTC) has recently faced a period of bearish pressure that has taken a toll on its market performance. The months of July and August have witnessed a shift in sentiment, as bearish forces began to dominate the crypto market. 
As of the latest update, LTC finds itself trading within a critical support zone, prompting discussions among traders and analysts about its potential trajectory.
With the value of LTC hovering just below the $80 mark, market observers are closely monitoring whether this level will hold against the prevailing bearish sentiment.
Litecoin Vital Support Zone Tested
A recent price analysis has underscored the significance of the $80 threshold, suggesting that a breach below this point could potentially trigger an extended downtrend for Litecoin.
The current market figures reflect a small 24-hour uptick of 0.2% and a seven-day decline of 8.5% with a current price of $82.57 on CoinGecko, painting a cautious picture for LTC's short-term performance.
The fluctuations in price during this period have sparked discussions about the factors contributing to Litecoin's recent struggles.
Halving Event And Its Impact
The crypto community is no stranger to the phenomenon of halving, an event embedded in the genes of cryptocurrencies like Litecoin. In 2019, Litecoin underwent its second halving, a pre-programmed event that occurs approximately every four years.
This event, characterized by a reduction in block rewards issued to miners, has historically carried significant implications for price trends.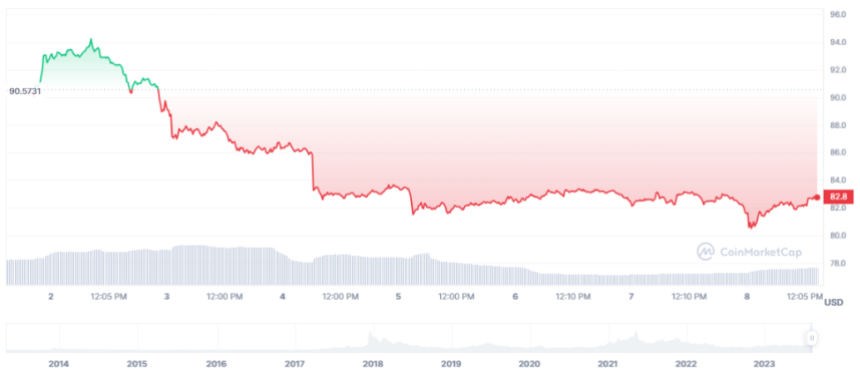 The halving event in 2019 witnessed a fascinating sequence of events. In the lead-up to the halving, Litecoin's price experienced a rally, generating excitement among investors. However, the post-halving scenario took an unexpected turn as an extended downtrend followed, lasting for over 500 days.
This downtrend was succeeded by a period of consolidation, marking the complexity of crypto market dynamics and the interplay between halving events and price trends.
LTC's Third Halving Event And Network Fundamentals
Fast-forward to August 2, 2023, and Litecoin's blockchain has just experienced its third halving event. Occurring at block 2,520,000, this event has effectively slashed mining rewards to 6.25 LTC per block. Despite the prevailing lull in price action, Litecoin's network fundamentals remain robust. 
Litecoin's Hashrate is currently at getting close to hitting a new all time high. Currently at 933.2 TH/s, with difficultly just touching on a new ATH. $LTC is stronger than ever!

Despite what you may read in the 'press'. pic.twitter.com/0hEgED09kd

— Litecoin (@litecoin) August 6, 2023
Meanwhile, Litecoin's hashrate is poised to achieve an all-time high, exemplifying the network's resilience and ongoing miner participation.
Presently boasting a difficulty level of 933.2 TH/s, Litecoin inches closer to establishing a new record, highlighting its secure and decentralized network infrastructure. 
The strengthening hashrate and its associated positive network indicators underline Litecoin's capacity to withstand market fluctuations and continue to evolve in the face of external pressures.
(This site's content should not be construed as investment advice. Investing involves risk. When you invest, your capital is subject to risk).
Featured image from The Currency Analytics