Shiba Inu (SHIB) enthusiasts are keeping a watchful eye on the coin's price movements as it inches closer to a crucial juncture in the last day of August. The latest indications from the market suggest that a potential breakout opportunity might be on the horizon, hinting at an imminent directional shift.
The ongoing consolidation phase is taking the form of a symmetrical triangle pattern. This pattern, marked by two converging trendlines, signifies a period of uncertainty in the market, often followed by a notable price movement.
On August 29, a notable surge in Bitcoin's price set off a chain reaction across the crypto market, prompting a 2.8% jump in Shiba Inu's value. This push aimed to break the coin free from its protracted consolidation phase.
However, the rally faced resistance near the $0.00000845 mark, forcing the meme coin back into the confines of the triangle pattern. As of the latest data, the SHIB price stands at $0.00000816, with a 1.0% decline in the past 24 hours and a 2.0% loss over the past seven days.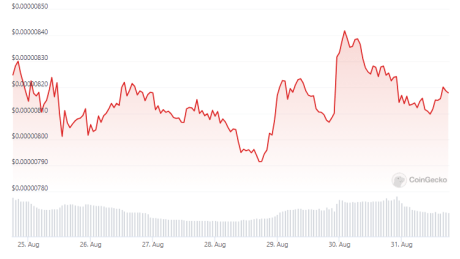 Shiba Inu Triangle Pattern Unveiled
The triangular pattern taking shape on the charts is a recurring technical formation in the world of trading. It signals a period of indecision among investors as the price fluctuates within the converging trendlines.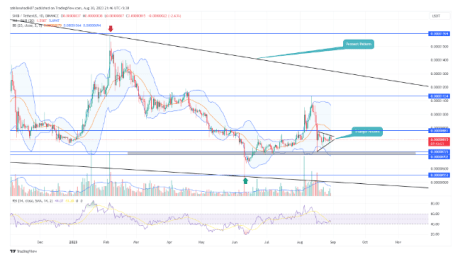 This phase is often followed by a breakout, where the price ventures beyond one of the trendlines with significant momentum, indicating the potential for a new trend to emerge.
Amidst the price contemplation, Shiba Inu enthusiasts have found reason to rejoice with the relaunch of Shibarium, the Layer 2 blockchain associated with the SHIB ecosystem.
Within days of its official reactivation, Shibarium is already making great strides, sparking enthusiasm within both the SHIB community and generating anticipation for a potential surge in SHIB's value.
In a tweet, Lucie, a prominent figure within the Shiba Inu team, predicts that Shibarium's impact will become evident over the next eight to 12 months. Shedding light on the details, Lucie emphasizes how Shibarium's functionalities will aid in reducing the circulation of SHIB tokens.
STAY INFORMED

Just wanted to give you a friendly heads up about some influencers making big promises about $SHIB burns.

There are no keys to the $SHIB supply. Completely decentralized.

Whatever gets burned is simply a result of people buying and using #Shibarium.… pic.twitter.com/X35w1lPkPq

—