Since the Bitcoin bull market began, one discussion that has never left the crypto community is when the next bull rally will commence and if it would follow the previously established trend around the halving events. To this end, a crypto analyst, Lark Davis, has taken to X (formerly Twitter) to share his forecast around the next bull market.
What Could Happen If History Repeats Itself
All of the previous Bitcoin bull markets have always begun after the BTC halving event which cuts block rewards in half. However, this time around, there have been dissenting views regarding the digital asset's tendency to follow this established trend once more due to deviations in various Bitcoin metrics. But Davis has shared a possible scenario for BTC if the bull market begins after the rally once more.
In the chart shared by the analyst on X, he points out a long period of accumulation. This is when investors fill up their bags with BTC as it is possibly the lowest that the price of the digital asset would get during the bear market.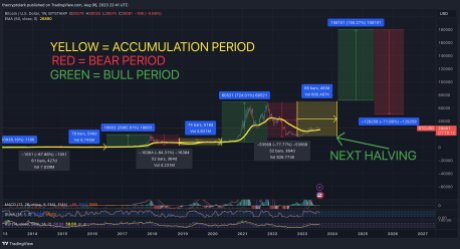 Next comes the Bitcoin halving event, at which time, the price of Bitcoin and other cryptocurrencies in the market start to pick up steam. This is when the bull market starts to take shape, leading to the next part of the trend which is when prices explode.
In Davis' post, he shows that the price of the digital asset could rise as high as $180,000 during this time. If the cryptocurrency does touch this price mark, it would mean that the price of BTC would almost triple from its current all-time high of $69,000.
How This Can Happen For Bitcoin
As clarified by the analyst in his X post, for any of this to happen, it would mean that BTC would have to completely follow the trends of the previous bull cycles. This would mean the bottom could likely be reached in early 2024, but it would also be the same year for the start of the bull run.
Even if Bitcoin does follow this trend though, it would not always be 'up-only' for the market. It would mean that the bull market would top out sometime in 2025 and then there would likely be a market crash that sends BTC spiraling in the following year. As Davis points out, the digital asset could tumble 70% to reach $50,000 again.
However, even with the obvious bear market that would follow this trend, it is still an incredibly bullish scenario for Bitcoin and the crypto market at large. The bull market would last around one year, following historical data, providing ample opportunity for investors to make the most of the market.
The next Bitcoin halving is expected to take place in April 2024, and if history is anything to go by, this is around when the bull market should be expected to start back up.