Curve DAO (CRV) has established itself as a prominent DeFi platform, renowned for providing ample liquidity, particularly for stablecoins. However, an unfortunate security breach occurred over the weekend, causing a significant decrease in both the total funds entrusted to Curve and the value of its native token, CRV, which serves as a means of transaction within the protocol. 
According to a report from Bloomberg, this decline in CRV's price has put the substantial sum of over $100 million in loans at risk of being liquidated, posing a serious challenge for Curve Finance's founder, Michael Egorov.
As news of the potential liquidation of the Curve Founder's assets spread, the sentiment among investors turned increasingly fearful, resulting in a notable impact on the CRV market's price action in recent days. Many are now questioning whether there is any hope for a recovery.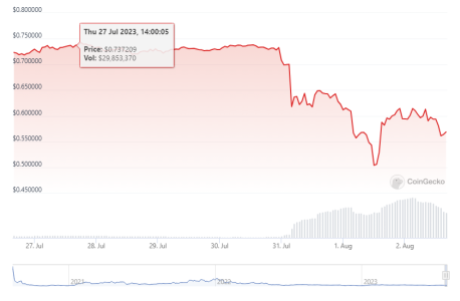 CRV Price Analysis: Mixed Trends Prompt Speculation On Sentiment
According to CoinGecko, the price of CRV currently stands at $0.563, reflecting a decrease of -2.40% in the last 24 hours. Additionally, over the past seven days, CRV has experienced a significant decline of 22.1%.
Despite the recent uptick, a bearish sentiment overshadows the CRV token's prospects. Notably, a fundamental support level lies at the $0.5 mark, which underwent testing in November and December 2022.
Furthermore, a potential positive price response might be witnessed at the $0.32 support level from October and November 2020.
Unveiling Potential Shifts In Sentiment
An intriguing observation comes from the CRV price report, highlighting a sudden spike in previously dormant Open Interest (OI) charts within the past 48 hours. This occurrence coincided with a period of losses for the Curve DAO token on the chart.
A noteworthy development emerged during the recent rebound from $0.5 as the OI continued its ascent. This phenomenon raises the question: could this point to a direction toward bullish sentiment?
As the CRV token navigates these mixed trends, market participants contemplate the interplay between short-term gains, historical support levels, and the evolving Open Interest dynamics. The complex mosaic of these factors will likely shape the sentiment and direction of CRV's journey in the days to come.
Egorov Responds To Contagion Concerns Amidst CRV Incident
Meanwhile, Egorov talked to Bloomberg in the same report, shedding light on his strategic approach to mitigate the impact of the ongoing liquidation threat. He shared his focus on diminishing the sizes of his loans as a precautionary measure.
Speaking about the potential contagion effects of the situation, Egorov conveyed his perspective in an email to the publication: 
"I cannot comment much about contagion effects apart from saying that we, and I personally, work on minimizing or eliminating the impact," he wrote. "In any case, I think we and all DeFi will come out stronger surviving this event."
(This site's content should not be construed as investment advice. Investing involves risk. When you invest, your capital is subject to risk).
Featured image from Bankless Times