On August 10, the price of XRP inexplicably spiked for a brief moment on the Gemini exchange. For a moment, the price of XRP reached an astounding $50 per coin before quickly crashing back down to the same level on spot markets on other exchanges.
Brief Price Surge On Gemini
According to various posts on social media platform X (formerly known as Twitter), it would seem that Gemini experienced a technical issue that caused the XRP price displayed on their exchange to show an erroneous price of $50. During that time, however, XRP was trading around only $0.63. 
It would appear as if Gemini is currently experiencing a thin order book after recently relisting XRP on its spot markets. Users have posted screenshots on social media of the token's price on the exchange rising above $1 several times. However, the exchange has since updated its chart to make it look like the cryptocurrency only spiked to $1.50.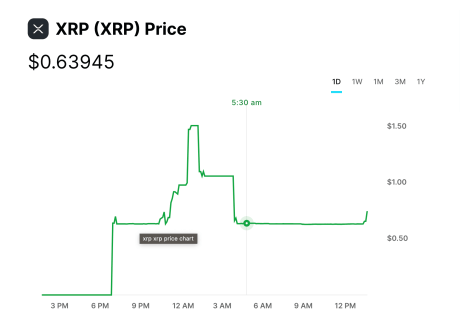 The bump, which took a few seconds to correct, was likely a result of low liquidity. According to crypto trading expert Ali Martinez, the liquidity was so low that only a $37,000 order was enough to move XRP prices on the exchange by 2%.
$XRP hit $50 on @Gemini, but now they have updated their charts to make it seems like #XRP hit $1.60.