On-chain data shows the Polygon trading volume has seen a significant increase compared to the other altcoins. Here's what this means for MATIC.
Polygon Trading Volume Has Observed A Sharp Jump Recently
According to data from the on-chain analytics firm Santiment, altcoins have observed an increase in trading volume during the last few days. The "trading volume" here is an indicator that measures the daily total amount of a given cryptocurrency that's getting involved in transactions on the blockchain.
When the value of this metric is high, it means that a large number of tokens are being shifted around on the network. Such a trend can be a sign that traders of the asset are actively participating in the market right now.
On the other hand, low values imply that the cryptocurrency is observing a low amount of activity currently. This kind of trend can suggest that there isn't much interest in the coin among general investors at the moment.
Now, here is a chart that shows the trend in the trading volume of some of the largest assets in the sector over the past week: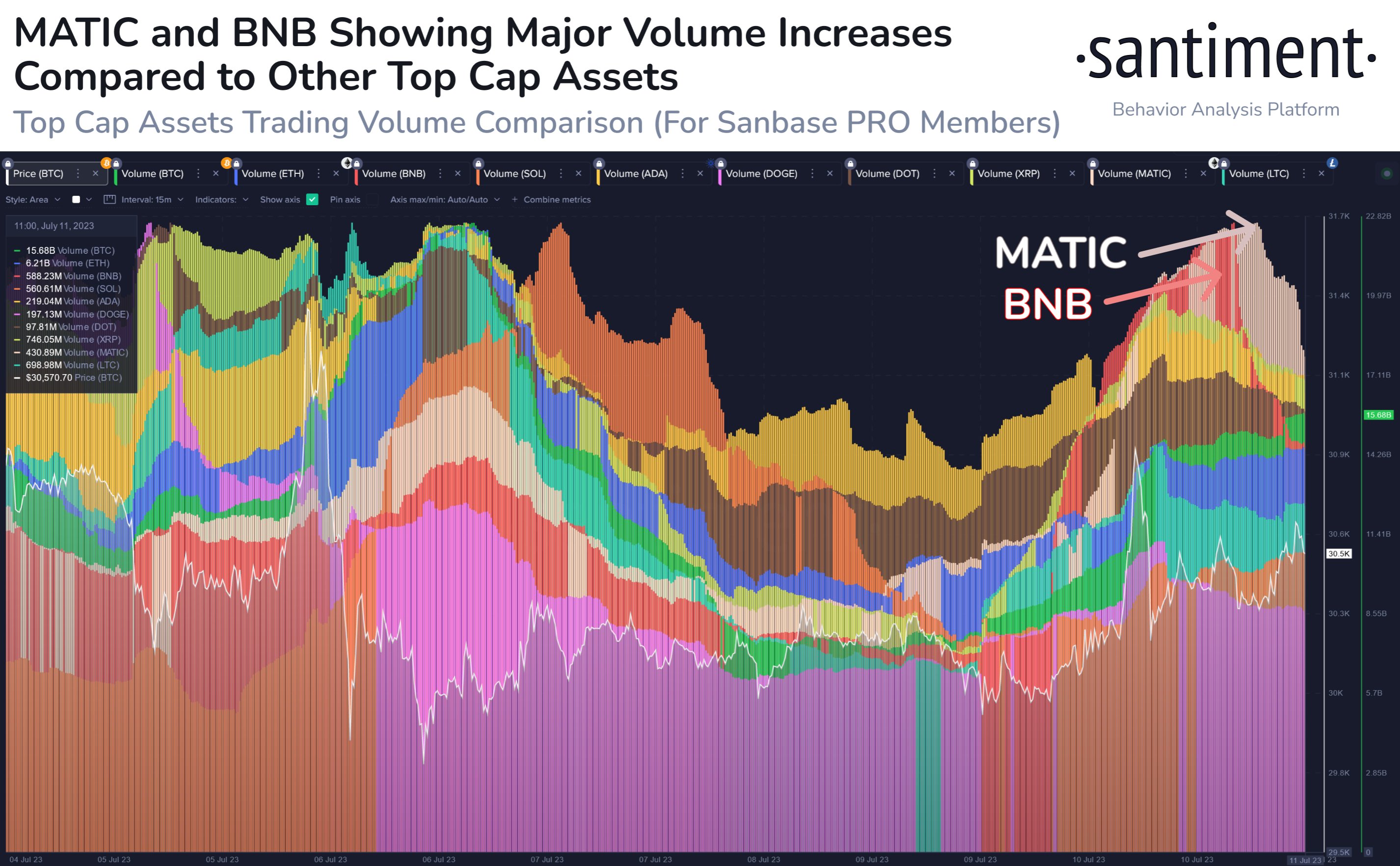 As displayed in the above graph, the trading volume of most of the altcoins had declined to relatively low values a few days back, implying that interest in them had dropped.
However, during the last couple of days or so, the indicator's value has bounced back for these assets, suggesting that investors are once again participating in trading.
From the chart, it's visible that two altcoins in particular have enjoyed the sharpest increase in the metric: Polygon and BNB. This would mean that these cryptocurrencies have a stronger interest backing them right now.
Generally, high amounts of volume are needed to sustain any sharp moves in the price. This is because a high volume implies the presence of a large number of traders, who can provide fuel for building any such move.
Thus, whenever the trading volume rises for any asset, the price of the coin becomes more likely to show volatility. Which direction such volatile price action might take the cryptocurrency in is hard to say from the volume alone, however.
In the case of Polygon and BNB, though, a surge in their prices occurred in the same period as when their trading volumes jumped. This may imply that this fresh trading interest is leaning toward the buying side, at least for now.
With this latest uptrend, MATIC's price has gone up by almost 9%. Naturally, if the trading volume continues to remain high in the coming days, it's possible that this fresh increase might continue into the near future.
MATIC Price
At the time of writing, Polygon is trading around $0.73, up 5% in the last week.