The cryptocurrency market has experienced a period of stagnation, with Bitcoin (BTC) trading within a narrow range for the past week. 
However, according to market analyst Ali Martinez, there is a glimmer of hope on the horizon as Open Interest, a key indicator of market sentiment, has skyrocketed to a year-to-date high.
Correlation Between Open Interest And Bitcoin
Notably, the correlation between Open Interest and Bitcoin's price has historically been significant, suggesting that this surge may herald a potential reversal in the leading cryptocurrency's fortunes. 
Martinez believes the recent dip to $28,700 prompted crypto traders to take long positions, fueling optimism for a Bitcoin resurgence.
Over the past week, the overall crypto market has experienced a period of stagnation, with Bitcoin trading within a tight range of $28,900 to $29,200. 
This consolidation follows a continuous decline from its yearly high of $31,800, which has also set the tone for other major cryptocurrencies. The lack of significant price movement has left investors and traders eager for a catalyst that could propel the market forward.
Nevertheless, the number of open long and short positions on crypto derivative exchanges has surged to a remarkable year-to-date high of $10.086 billion. This surge in Open Interest is significant, indicating heightened market activity and trader engagement.
One crucial aspect to consider is the historical correlation between Open Interest and the price of Bitcoin. This relationship has often been strong, with Open Interest as a leading indicator for potential price movements.
As Open Interest reaches new highs, it suggests that market participants are actively taking positions in anticipation of a significant market shift.
While the crypto market has been characterized by stagnation and decline in recent times, the surge in Open Interest to a yearly high provides hope for a bullish reversal. 
Bearish Divergence Signals Potential Pullback For BTC
Bitcoin has recently exhibited some intriguing patterns that warrant attention from both technical analysis and on-chain analysis perspectives. 
According to Baro Virtual, CryptoQuant author and analyst, a bearish divergence on the BTC Average Return Index suggests a possible pullback to $26,000.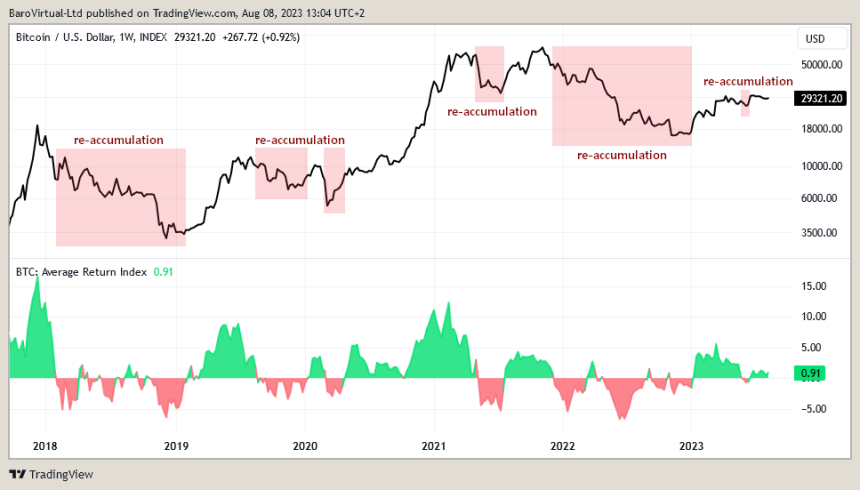 Simultaneously, on-chain analysis indicates a weakening return index performance alongside a rising Bitcoin price, potentially signaling a phase of re-accumulation that may benefit investors seeking lower prices. 
The transition of the return index into the negative zone suggests a shift in market sentiment towards re-accumulation. 
Re-accumulation typically occurs when long-term investors or institutions acquire Bitcoin at lower prices, anticipating future price appreciation. This behavior can be seen as a positive sign for the market's long-term health, reflecting increased interest from strategic investors.
As of the current update, BTC has broken out of its range which has persisted since the beginning of August. It is trading at $29,600, reflecting a 2.5% increase over the past 24 hours.
However, the upward price movement of BTC in the short term may not be sustained unless accompanied by substantial trading volume. Several significant resistance levels lie ahead, posing challenges for BTC's attempt to reclaim the $30,000 milestone.
To begin with, the $29,700 zone presents a formidable barrier, followed by subsequent resistance walls at $30,000, $30,700, $31,200, and $31,500. In the short and mid-term, BTC, the largest cryptocurrency in the market, will need a compelling catalyst to push beyond these levels. Without such, a retracement is possible in the coming weeks. 
Featured image from iStock, chart from TradingView.com