TikTok has been in the news recently as the U.S. wants to ban the app over fears of the Chinese government using it for surveillance, with Montana being the first state to officially ban the app. With 150 million Americans using TikTok, a blanket ban of the app could have a large impact on people's livelihoods, especially those who rely TikTok for income.
At NewsBTC we wanted to analyze some of the biggest crypto and financial influencers on the platform to find out what they could potentially lose if TikTok is banned in the U.S.A.
TikTok Financial Influencers Potential Monthly Loss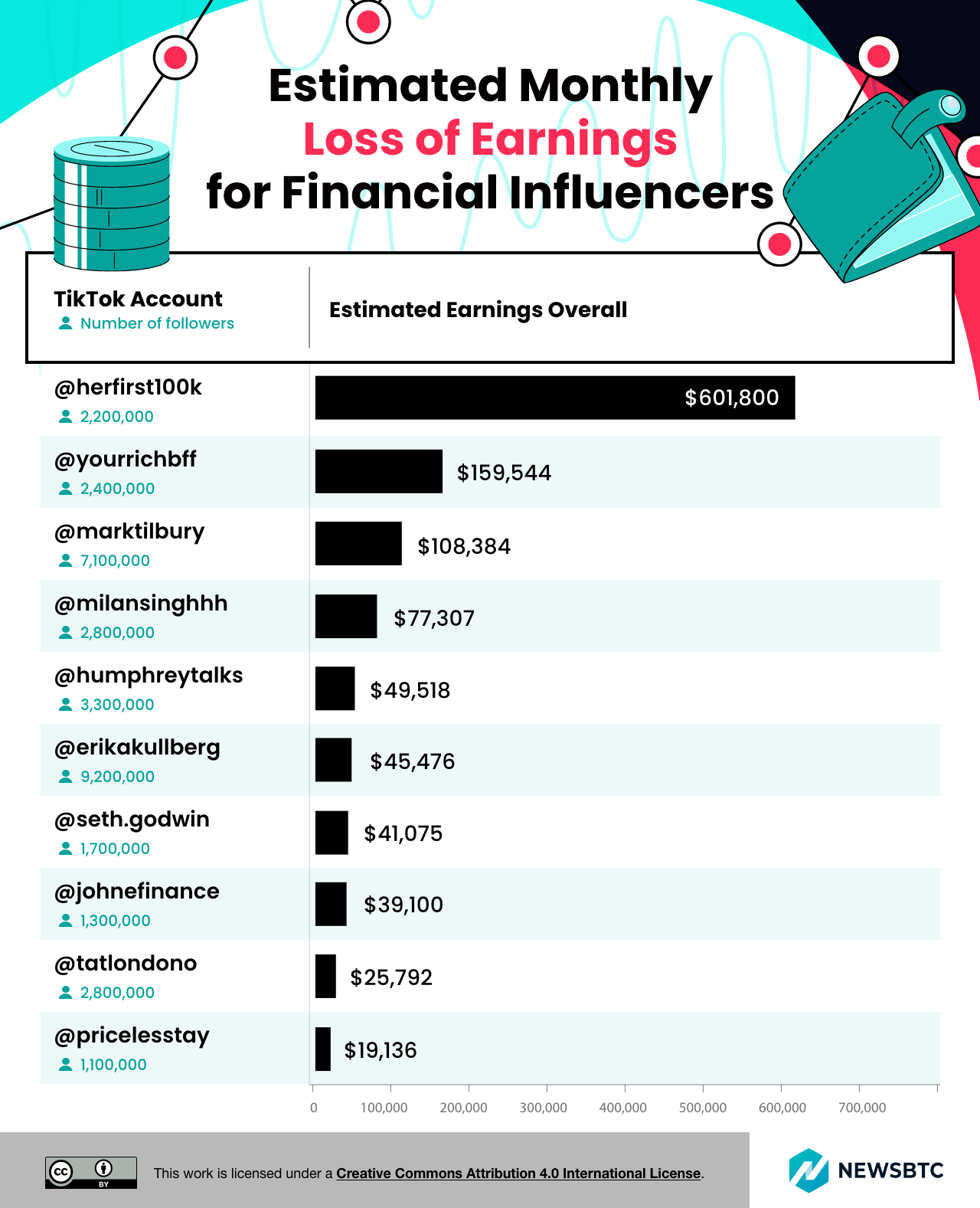 From our seed list the financial influencer who could have the biggest loss in earnings is Tori Dunlap or @herfirst100k on TikTok. Dunlap has 2.2 million followers on TikTok and we estimate she could lose over $600k a month if TikTok is banned.
Another influencer who could see a massive loss in earnings is Vivian Tu or @yourrichbff on TikTok. With 2.4 million followers Tu is estimated to have a potential earning loss of almost $160k a month. Mark Tilbury – @marktilbury – is also set to lose a massive $108k a month if TikTok is banned.
TikTok Crypto Influencers Potential Monthly Loss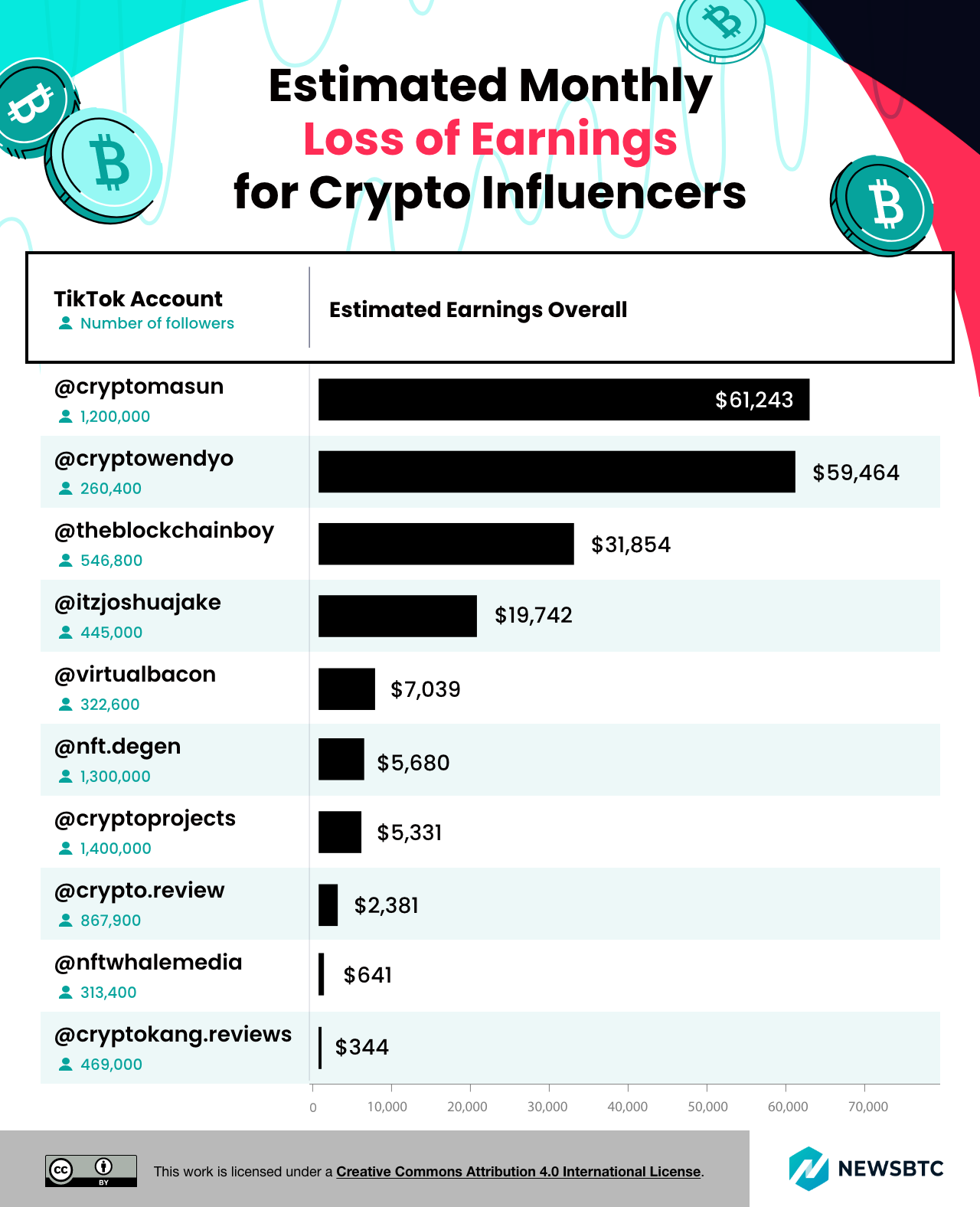 From our list of crypto influencers the influencer who could have the biggest loss in earnings is Mason Verslius @cryptomasun on TikTok. According to our research he could lose over $61k a month if a ban is put in place.
The crypto influencer who could face the second largest loss in earnings is @cryptowendyo, who could lose just under $60k a month. Lucas Dimos – @theblockchainboy – is third on our list with a potential monthly loss of over $31k.
TikTok Financial Influencers Total Earnings
Estimated earnings are based on the number of videos an influencer posts and their engagement rate. Therefore, for some of the larger influencers analyzed, the TikTok ban is estimated to have less impact. For example, Erika Kaulberg – @erikakullberg – has 9.2 million followers but is 6th on our list for total earnings at $1.09 million and estimated to lose $45k a month.
TikTok Crypto Influencer Total Earnings
From our list of crypto influencers @cryptoprojects has the biggest following of 1.4 million with estimated total earnings of $106k putting him at 7th on our list of top earners. Just above @cryptoprojects is @nft.degen, the second largest crypto influencer on our list with 1.3 million followers. His estimated total earnings are just $124k, making his estimated monthly earning loss $5.6k.
Methodology
NewsBTC analyzed the biggest Finance and Crypto influencers on TikTok to find out what their potential monthly loss of earnings could be if TikTok is banned in the U.S.A. A list of the top 50 influencers was collated by merging a list of 'best crypto currency influencers' from the top Google results.
NewsBTC did this by calculating what the estimated total earnings are for top crypto and financial influencers, and dividing that by the number of months they had been active on the platform. Total earnings were calculated using the TikTok Money Calculator on Influencer Marketing Hub which takes the number of videos and engagement rate into account when providing earning estimations.