Within the last 24 hours, Bitcoin and the entire crypto market are experiencing a slight downturn, leaving investors wondering about the reasons behind this dip. Bitcoin briefly rose to $31,009 before falling to 30,254 within a few hours. Ether (ETH) rose to over $1,900, only to drop back to $1,868.
CPI Data And The Anticipation Of A Rate Hike
One crucial piece of the puzzle lies in the recent Consumer Price Index (CPI) data. Yesterday's CPI data for June was a positive surprise as the headline CPI year-over-year (YoY) fell to 3.0%, coming in below expectations of 3.1%. Even more encouraging was core CPI YoY which dropped to 4.8%, surpassing market expectations of 5.0%.
However, this didn't significantly alter the market's view on the upcoming rate hike decision by the Federal Reserve at the end of the month. According to the CME FedWatch Tool, the market still expects a 25 bps hike by the Fed at the next meeting on July 25-26 with a 93% probability. Renowned macro analyst Ted (@tedtalksmacro) is in the minority that believes there won't be another rate hike. Ted shared the chart below and wrote:
3m annualized core CPI now running at October 2021 levels. The trend is the Fed's friend. Hard to see another hike this month.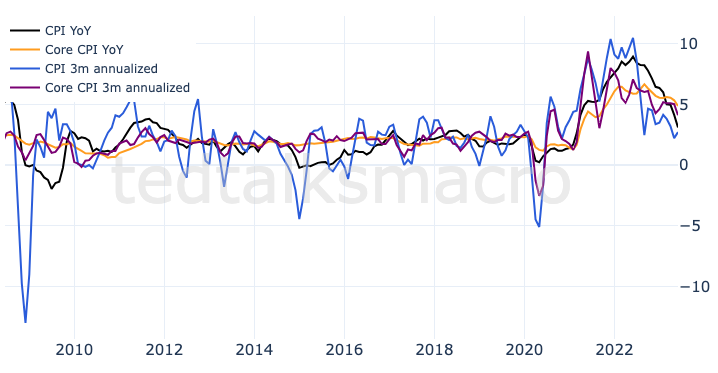 Other analysts, however, believe that the core Personal Consumption Expenditures Price Index (PCE) is more important for the Fed. In the most recent release of FOMC minutes, PCE is mentioned ten times compared vs. three mentions of CPI. The Fed's favored inflation gauge for June will not be released until 28 July.
US Government Selling Bitcoin
However, it is important to note that following the positive inflation data, traditional markets were setting new highs. The S&P500 rose by 0.74% yesterday and recorded its highest level since April 2022. Meanwhile, Bitcoin still could't sustainably break $31,000 in its 6th attempt.
The reason was likely the news that the US government is moving 9,800 BTC linked to the infamous Silk Road marketplace. The news broke shortly after the release of the CPI and drastically dampened sentiment. In the past, news that the US government is moving and possibly selling some of its Bitcoin always triggered severe price drops. Yesterday's drop can still be considered moderate and an indicator of market strength.
So far, there is only speculation about the US government's plans. It is known that the US intends to liquidate the seized BTC holdings. The last time this happened was in March. Back then, 9,861 Bitcoin were sold. However, the transfers could also only be used to restructure the BTC holdings.
Probably the reason #Bitcoin couldn't rally despite the positive CPI surprise (SPX +0.83%).