Much has been said in recent weeks regarding how uncharacteristically calm Bitcoin has been. On weekly timeframes, volatility measures are at their lowest ever.
Unfortunately, despite the record-setting lull, directionless sideways price action could continue for a lot longer.
Record-Breaking Low Volatility State Could Continue Longer
Bitcoin price is at a standstill compared to its usually explosive self. It's remained locked in a tight trading range, to the point where even a $300 move to either side might feel like a major breakout.
Few points throughout history on lower timeframes have ever been this quiet. This is according to the weekly Bollinger Bands and Bollinger Band Width readings.
Extreme tightening in the Bollinger Bands suggests what's a called a Squeeze setup — a situation where following a low volatility phase of narrowing, the bands then expand and release a wave of volatility. It could be a lot longer until that happens, however.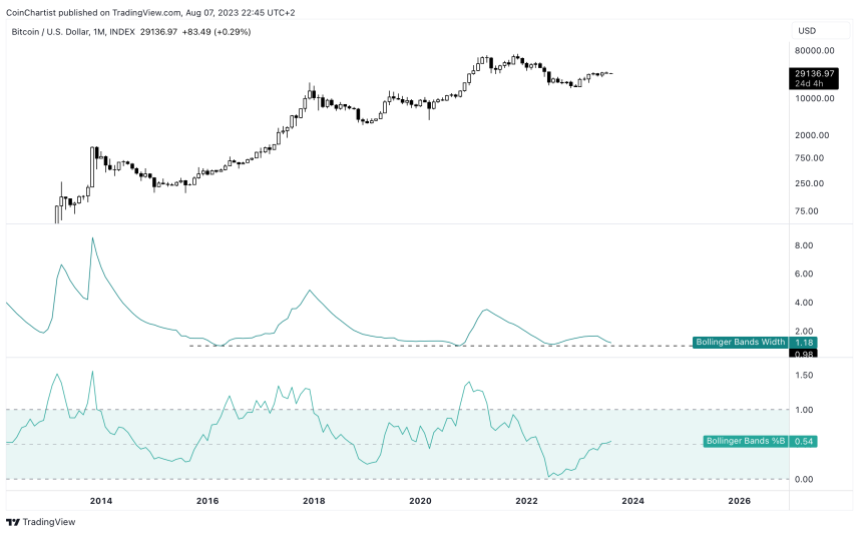 Examining Monthly Bollinger Band Width
While the weekly is at record tightness, using the very same tool on the monthly timeframe, shows that that there could be a lot further to go.
The Bollinger Band Width isn't as low as it has been prior to past bull runs — notably to the lows of early 2016 and late 2020. This could suggest the possibility of months more sideways before a meaningful breakout to new all-time highs or a collapse back to lows.
None of this says much about direction thus far, but %B might hint at a move to the upside. The tool is plotted depending on price's percentage relation to the upper, middle, and lower Bollinger Bands. As long as %B remains above 0.5 it means price is above the Bollinger Band basis — which is a 20-month simple moving average
Although we don't know which direction Bitcoin ultimately moves, we do know that one thing is for certain: volatility will return in a major way. It's just a matter of when, and how long we have to wait.
The #Bitcoin 1W Bollinger Bands have been the "tightest in its history" for several weeks nowhttps://t.co/1Oux6TB537

But there is a lot more going on if you turn on Bollinger Band Width and %B – two ancillary technical tools related to the BB itself

John Bollinger created the… pic.twitter.com/iGVwoBPWrg

— Tony "The Bull" (@tonythebullBTC) August 7, 2023