In the last crypto bull market spanning from 2020-2021, the price of Shiba Inu ran as high as $0.00008. Due to the high euphoria at the time, expectations rose rapidly around the meme coin, leading to calls for SHIB at $0.001. However, this target remains as unrealistic today as it was back then and this report dives into the reason why.
Not Enough Of SHIB Supply Is Being Burned
The Shiba Inu community officially kicked off its burning initiative back in 2022 which SHIB tokens being sent to dead addresses weekly. However, despite being roughly a year in the making, the total number of SHIB tokens burned so far has been next to negligible in the grand scheme of things.
Shibburn, a Shiba Inu burn tracking website, shows that a total of 410,658,326,324,061 tokens have been burned since the first burn. This accounts for a little over 46% of the maximum total supply of more than 999 trillion tokens. But even more interesting is the fact that the community burn makes up less than 1% of the total burned figure.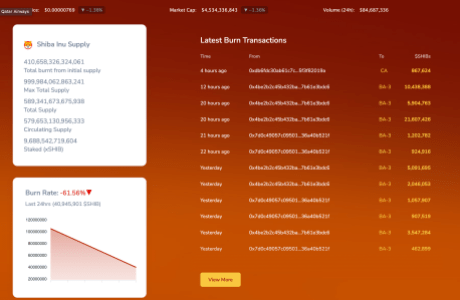 The vast majority of the burned figure mentioned above comes from the burn carried out by Ethereum founder Vitalik Buterin. The Shiba Inu founders had sent half of the token's supply to Buterin, who then donated 50 billion SHIB to an Indian COVID relief fund and sent the rest to a burn address.
Buterin's transaction carried over 410 trillion tokens and was the first-ever recorded SHIB burn event. Given that the SHIB burned so far is sitting at 410,658,326,324,061, it means the community burn over the last year makes up around 0.15% of the total burned tokens.
Can't Drive Shiba Inu To $0.001
The point of the Shiba Inu community burn was to encourage the rapid reduction of the SHIB supply. With the supply of the token so high, it has served as a hindrance for it to reach higher prices compared to its fiercest rival Dogecoin.
The community burn is not removing tokens from circulation as fast as is needed, stalling the potential of SHIB's price hitting $0.001. Realistically, for SHIB to rise as high as $0.001, at least 80% of its supply would have to be burned to make this an attainable goal. This means removing hundreds of trillions of tokens from circulation just like Buterin did with his burn.
However, given that most of the remaining SHIB supply is already in circulation, meaning in the hands of millions of holders, such a large burn is impossible. This is because investors would not want to burn large chunks of their holdings, which is the same as throwing dollar bills in an open flame.
Unfortunately, this means the price of the meme coin will likely not reach $0.001 given that its current circulating supply sits at over 579 trillion, even more than the portion of supply already burned.